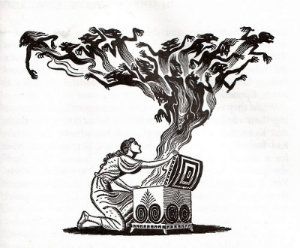 Pandora's Box
It was a false gift, given by the gods to a curious woman.
It held not wonders.
It held not happiness.
It held only
plague
strife
fear
evil.
And all that remained within the box when the curious woman closed it? Hope.
But we were too scared to open it again.
PROLOGUE
STORY IN A NUTSHELL
THE TECHNICAL STUFF
CHAOS MUTATIONAL TYPES
CHARACTER SKELETON
tl;dr
This was one of my best RPs. It originated on the previous OMF forum. I believe I was on my second account Giga Drill Breaker, and it saw heavy recognition. At least for it's time. Unfortunately I made it during what I refer to as The Great SGRP Deadzone of 2011. There was little to no RP activity for months that year. Miracle of Chaos caused a small boom and eventually the SG RPs recovered but it died before it's time. I'm giving it another chance. This RP is not a mirror of the Miracle of Chaos from two years ago, but it's actually redone and reimagined, with less plot holes and more real-world integration.
Basically the RP is Final Fantasy meets Red Dead Redemption meets Deus Ex meets Assassin's Creed's past to future elements, if you want to think of it that way.
Anyways, please state interest if you're up for it. I'm going for at least five people before I confirm it. (I know the rules say three but I'm taking no risks.)
Edited by ZCOverload, 03 January 2013 - 07:15 PM.