ACCA13区監察課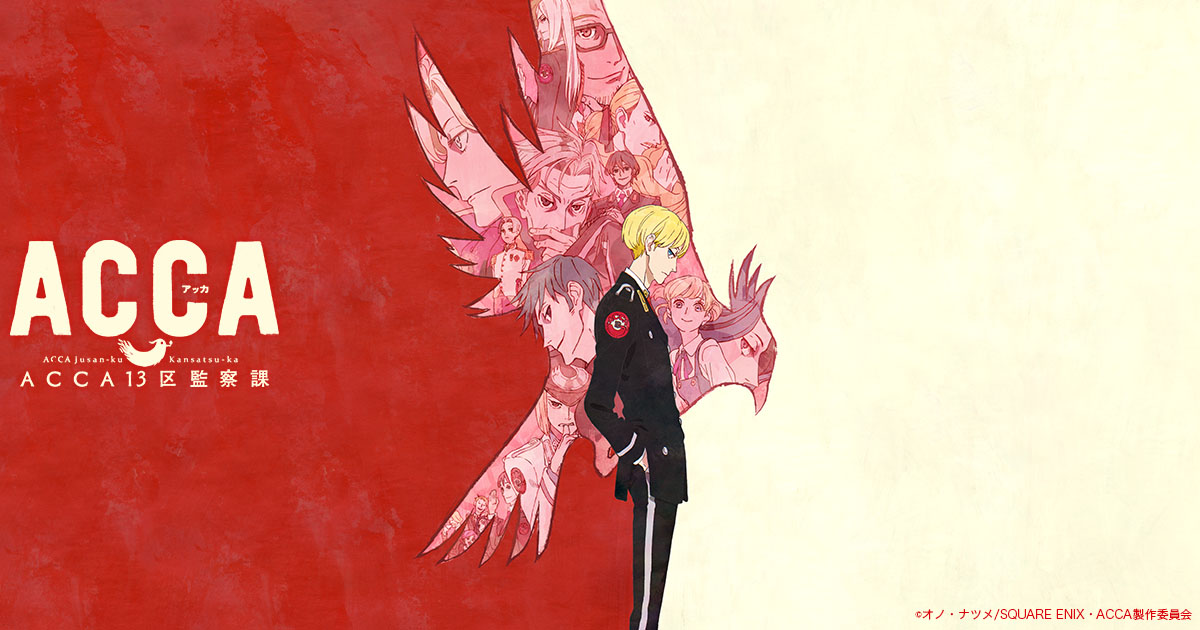 Ripped from MangaUpdates: "The kingdom of Dowa, which is subdivided into 13 states, is celebrating its monarch's 99th birthday. These thirteen states have many agencies that are controlled by the giant organization known as ACCA. Within ACCA, Jean Otis is the second-in-command of the inspection agency. His agency has 10 people placed in each of the 13 states, with a central office in the capital city. They keep track of all the activities of ACCA across the kingdom, and keep data on each state's ACCA office flowing towards the central office. Jean also often has business trips from the capital to the other districts, to check on the situation and personnel there."
General Vibes? Drama, Mystery, Bureaucracy, Tobacco
Who's drawing this? Madhouse is.
Best subs? [Kaitou-Glue] for now, I guess. [HorribleSubs] for speed.
Is it fujobait? Duh. No seriously though, why do you care? I get it, but this isn't yaoi.
It's not gonna be a full adaptation right? The manga is 37 chapters, 6 volumes. The pace of the episodes is currently 3 chapters for each. Seeing as 3*12 (12 episodes) is 36, yes, I fully expect this to be a full adaptation.
Really, what's this even about? See, that's where the mystery tag comes in.
But nothing happens in episode 1? Sure, nothing. Also, remember, mystery.
It'll be slow, won't it? If that isn't your thing, go find something else to watch. But remember that this will fly by in episode terms. Consider marathoning once it's all out.
Fuck me the translation of the title is clunky. "Inspectors of the 13 States" or even "13-District Surveillance Department" would have been better.
Anyway, let's go.
Edited by Otaku-N., 17 January 2017 - 11:56 PM.